Description
ETN3000 DoubleTest Two magnification desktop optical fiber inspection integrated microscope is a two-in-one use fiber equipment for the patch cord, transceiver, assemblies, etc., male and female fiber end face test, with an HD monitor embedded. Two magnifications can be output together same time with the one-time focus and one bench scope.  A large rate checks the fiber core detail defects, small rate checks the whole ceramic edge, it's the best choice for the highest efficiency inspection standard.
DoubleTest has 400X/200X, 400X/70X, 400X/80X, 400X/50X, 200X/80X, and 200X/70X , 200X/50X  seven types of magnification for selection. Users can choose based on different application needs,  complete checks to save time, and improve the test efficiency totally. 40+
versatile adaptors can meet almost all types of connector, transceivers inspection, including but not limited to the MPO PC, APC, MT PC, APC,  FA 0,6,8 angle, regular SFP-SC, SFP-LC regular transceiver, TOSA, ROSA, 1.25mm, 2.5mm patch cord, ferrule, etc.,  inspection.  ES fiber optic microscopes support all specific customization adaptors to make sure all the coverage.
Product Highlights
Full-field of view inspection, multiple magnification selection
Large rate checks detailed fiber, small rate checks field of view largest to the ceramic edge
Double light path design, brighter under large rate,  lower under small rate
Double lens to guarantee corresponding sharpness
Hidden magnification switch touch key, laptop connect, bar code scan and pedal, etc., functional features
Flexible bracket to support up and down left or right secondary display installation
70X small rate for ceramic edge check at a glance
No matter the LC pigtail, patch cord, ferrule, or LC transceiver,  all the end face diameter is less than 1mm diameter. There will be much more likely and easier for any cracks, or large dirt at the ceramic edge to move into the central core area during the transportation or any other movement, which creates secondary pollution in the final product delivery. So larger field of view including the ceramic check is the very necessary need for the high-requirement module, patch cord factory quality control.
Unlike the traditional 80X inspection, ES DoubleTest ETN3000 of small rate 70X can check the ceramic edge with super ease. No need to move up and down, rotate the testing kit left and right to check the edge, ES DoubleTest ETN3000 small rate of 70X can check the end face totally at one time,  which helps improve the inspection efficiency greatly.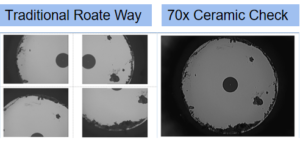 Double light design to guarantee the best sharpness
ES DoubleTest ETN3000 designs two lightpaths with two different lenses purposely. For a large rate, it's developed at high luminance, so the finest scratches can be seen crystal clear under it, and correspondingly for a low rate, it's developed at low luminance, the edge defect can be detected quickly as its attribute of easy reflection. High and low brightness can also be adjusted automatically or manually same time based on the true production environment, so that it can make sure, whatever high or low light, all defects are fully exposed, at a glance for a quick check.
Adjustable definition to meet different QC standards
What if users buy a microscope that offers ultra-high-definition fiber images?  The clearer the better? The answer will be definitely 'No'.  For the factory, batch qualified to meet the end-user requirement is the most critical point. Ultra-clear standards may cause the effect of gilding the lily. If high-definition, super-clear can be fully met, that would be enough. The resolution of the ES benchtop fiber optic microscope can be adjusted at any time, to make this point, meet the needs of different grades of QC inspection.
Auxiliary functions for selection
ES DoubleTest ETN3000 integrated fiber optic microscope supports scanning code storage, photography, pedal trigger, etc., multi-functional features. 40+ adaptors are designed to meet various types of connectors, ferrule, and transceivers, plus the customized adaptors, fully meet the end-user need.
Product Specifications
Model Type
S4-X7
S4-X5
S2-X7
S2-X5
Magnification
400X, 70X
400X, 200X
200X, 70X
200X, 80X
Definition
0.5μm,1.6μm
0.5μm,0.75μm
0.75μm,1.6μm
0.75μm,1.1μm
Field of View

(μm)

254*190 1375*1010
254*190

520*390

520*390

1375*1010

520*390

940*690

Inspection type
Single/Multicore/Fiber array

PC/APC patch cord

Single/Multicore/Fiberarray/Assembly/

Transceiver PC/APC

Focus Way
Manual or Autofocus
X/Y axis
X/Y Adjustment, Maximum to 8*4mm
Screen
8 inch TFT 1024*768 High Definition LCD
Second Screen

(Optional)

8 inch TFT 1024*768 High Definition LCD
Output
1*BNC (Default), 1*USB (Optional)

Weight

1.8kg
Dimension
200*265*295mm
Voltage
DC 12V