Description
Eternal Science SpeedyTest FVO-730B2-V video fiber optic inspection microscope is a portable fiber end face inspector together with a 2.7-inch video display. It's compatible with both analog and digital signal to connect two major type terminals, digital device as PC, laptop, OTDR, android cell phone, tablet, etc smart device, also the analog monitor as the 2.7 inch display, where it can quickly display, capture, video, voice to save the fiber end face data for file record. It's regard as the most functional probe in the industry, super light, handy, and practical to take anywhere anytime for the field tests and operation inspection. The inspector can also judge the end face the pass/fail analysis with IEC/IPC criteria on android cellphone/tablets/PC optionally.
Product Highlights
Undirectional one-way focus to get focus in 1-3s

400X/200X magnification, <1µm resolution

Adjustable inside brightness control to observe clearly the finest scratch under different enviorment

Capture, video, voice the fiber end face data for file record and management

Pluggable USB cable for easy maintenance, USB type A, type C all support

PC/laptop/tablet/cellphone/OTDR all-in-one support.

Optional Pass/Fail analysis on Tablet/smartphone/PC/laptop.

IEC-61300-3-35/IPC-8497-1 standard OR user-defined criteria.

+50 tips support for regular inspection as SC-APC-F, FC-APC-F, 2.5APC-M, 1.25APC-M all connectors and in-adaptors test.

Multiple core tips MT-PC-F/M, MPO-PC-F/M, MPO-APC-F/M 12,24,72 check support.

60 Angled and long reach tips for hard-to-access high density panel rack etc., places.
Undirectional one-way focus design
The ES unique humanized focus way, it's designed undirectional focuing. Whether left or right hand, forward or backward use, it can quickly get the end face in 1 ~ 3s, especially for the field of data center, panel rack inpsection. Equipped with updated software and app FiberFaceViewer, FiberFaceAnalyzer, FiberDataAnalyzer etc., ES probe can check the end face with IEC standard optionally on the PC/OTDR/Tablet/Android cellphone at the same time. All the app and software are developed by Eternal Science and all holds the computer copyright.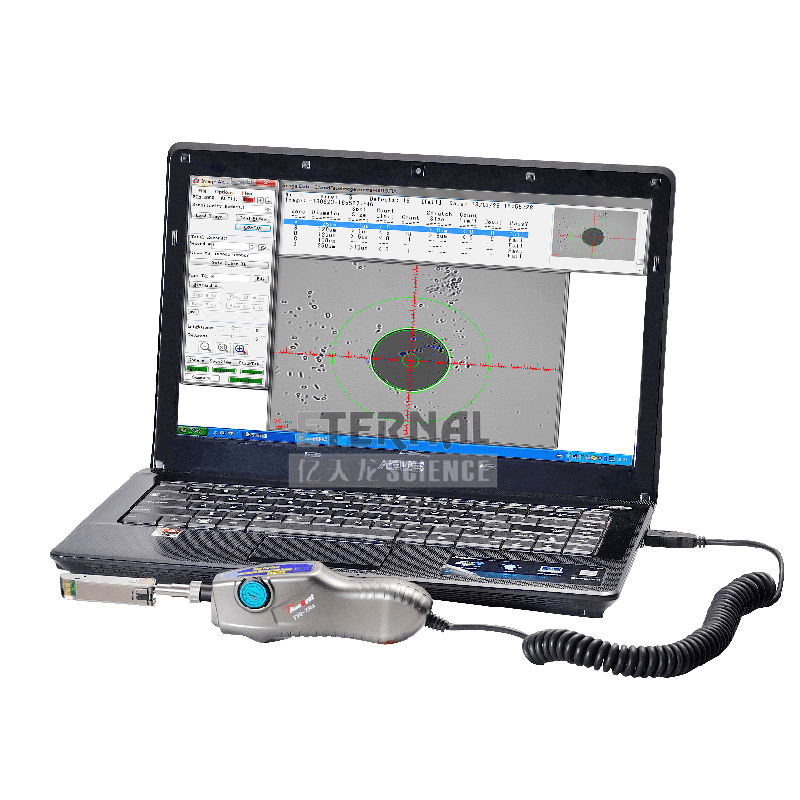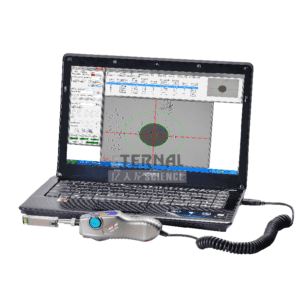 Capture, video and record for data file management
All the end face checked can be capture, or video to save in the 2.7inch display for file management, the 2.7inch display can be stand alone, hung on the bracket rack or wrist on the hand to save hands for easy operation.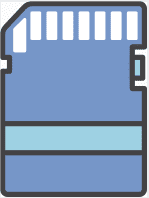 Various auxiliary functions support
Capture button on the probe for easy image capture, pluggable USB cable is designed for convenient maintenance and exchange under different situation. The most importantly, there's the inner light control on the probe purposly for the different end face check. Especially for the MPO end face check, where the environment is normally darker, user can adjust it to a brighter surrounding for the clear and finest scratch inspect.
Multiple terminals connect
No mater ES SpeedyTest FVO-730B or SpeedTest2 WIFI fiber inspector, ES fiber optic probes support multiple terminals connect. Especially the branded OTDR for the field test or laptop in the laborary use, all-in-one powerful connecton is of a great help on the complex flexible scenario.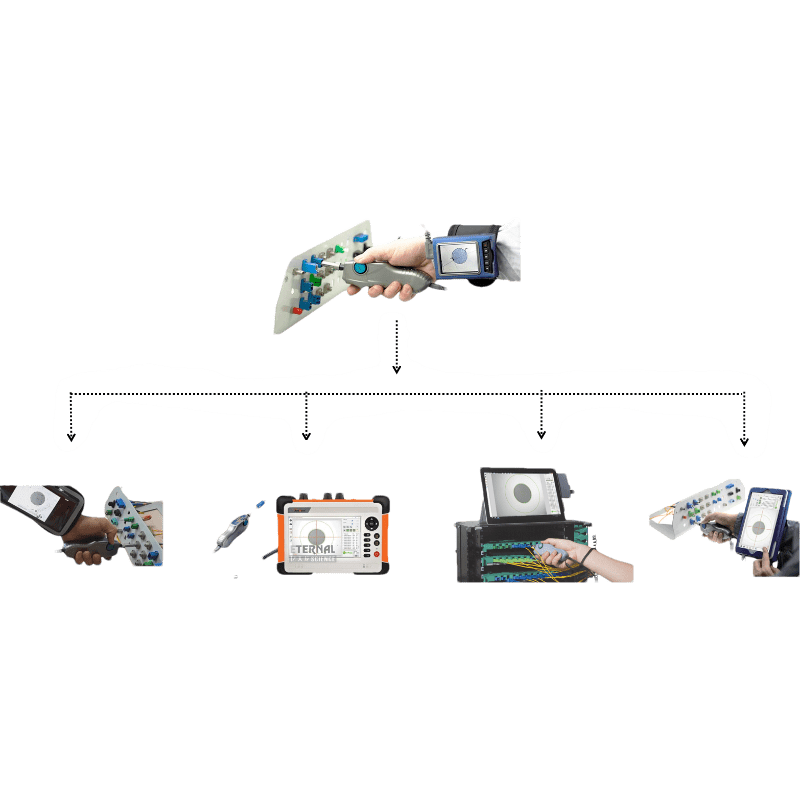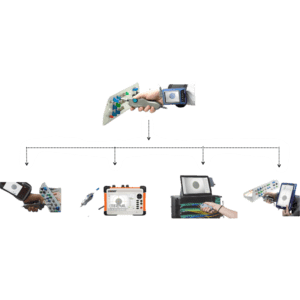 Regular, 60 angled and long-reach tips selection
Over 50+ regular tips are developed for customers selection. Regular tips can cover 90% connectors inspection, all are
interchangable for ES probes and reach 98% consistency and accuracy, including regular test on SC PC/APC, LC PC/APC, 100G, 400G transceiver, TOSA, ROSA assembly, MT, MPO PC/APC 12, 24, 72 cores all various connectors or bulkhead, in-adaptor endface.
Special 60 angled and long-reach tips are developed purposely for the ADSL Modem, high-density panel check, which makes another competitve edge.
Check below product video for more reference.
Product Specifications
FVO-730B2 Probe
VSM380 Display
Magnification
400X
Screen
2.7 inch
Definition
<1μm
View of field
X: 349

Y: 283 μm

Core size
Φ20
Focus way
Single-way
Images
640x480JPG
Focus speed
2-5s
Extended Capacity
Support 32G Micro SD(TF)
Alignment
>98%
Battery
1800mAh Li-ion
Output
AV out,

USB 2.0

Size
205x120x8.9mm
Weight
110g
Weight
355g
Dimension
180x22x56mm
Port
AV out/in, USB2.0
Product Configurations
Items
Description
Quantity
FVO-730B2 Probe
To test the fiber end face from patch cords /bulkhead etc., connectors
1pcs
VSM380 Display
To display the end-face image
1pcs
Tips
SC-PC-F, FC-PC-F, LC-PC-F ,2.5M-PC
1 pcs/type
Others
8G TF Reader 1pcs, Li-ion 2pcs, Charger 1pcs, USB cable 1pcs, earphone cord 1pcs, case 1pcs, cable 1pcs
Analysis App(Optional)
FiberEye2 app fiber data analysis on iOS/Android
1pcs
View software
Display the image
1 pcs
Analysis Software(optional)
EFD5.0 fiber data analysis software on PC, three-year free upgrade.