Description
SpeedyTest2 EFW-300P WiFi/USB fiber optic inspection probe is the automatic WIFI/USB dual-use portable digital fiber inspector scope. It can quickly check various patch cords, in-adaptors, and transceivers, display the fiber end face in cellphones, tablets under WIFI mode, and PC, laptops OTDR, etc., digital devices under the USB mode. The whole process inspection takes only 2-5s to save time greatly. All fiber quality can be auto-approved, saved, and shared on these devices in jpg/excel/pdf format for file records and management. It's super light and handy to take anywhere anytime for field tests, operation inspections, lab research, etc., for different applications.
Product Highlights
Performance Highlights
Auto Pass/Fail analysis in 1s.

95% accuracy and 99% consistency.

RealTime image display with no time lag.

8hrs+ battery support for the whole day long time use.
Function Highlights
Report auto-generated and saved for share.

Front illuminator in probe for dark environment test.

Adjustable inside brightness control to observe clearly the finest scratch under different environments.

Multiple terminals connect support, PC/laptop/tablet/cellphone/OTDR support.

Bar code scan for fiber label and data record.

50+ tips support regular inspection as SC-APC-F, FC-APC-F, 2.5APC-M, and 1.25APC-M all connectors and in-adaptors test.

Multiple core tips MT-PC-F/M, MPO-PC-F/M, MPO-APC-F/M 12,24,72 check support.

60 Angled and long reach tips for hard-to-access high-density panel rack etc., places.
Unidirectional one-way focus design, auto approve end face in 2~5s
The ES's unique humanized focus way, it's designed as undirectional focusing. Whether left or right hand, forward or backward use, it can quickly get the end face in 1 ~ 3s, especially for the field of the data center, panel rack inspection. Based on a high-precision and stable image processing algorithm, the quality of fiber ends can be automatically analyzed and judged according to IEC 61300-3-35 standard within 1s, and 2 ~ 5s can complete the whole end face intelligent detection, which is super fast and efficient, simple and practical in use.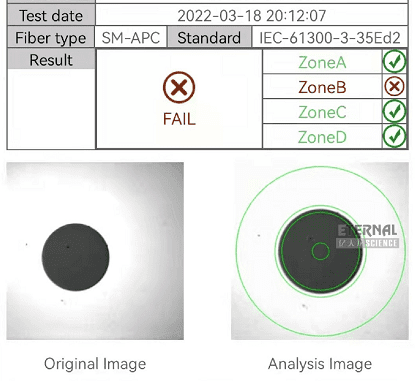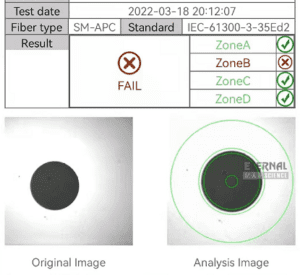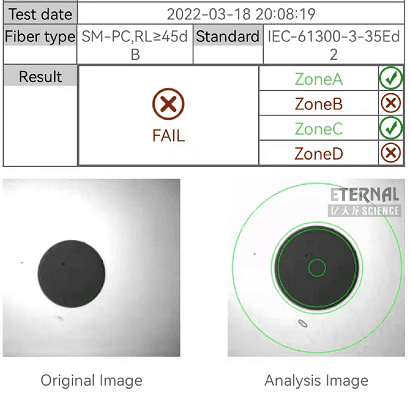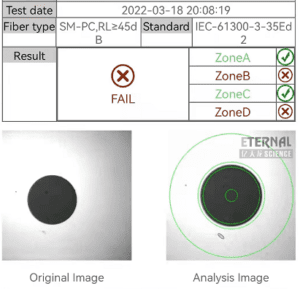 'FiberEye2' is the updated version app for fiber end face data quality auto approve, record, and save. A series of types of software and app and libraries are developed and built by Eternal Science as the 'FiberEye', 'FiberFaceViewer' 'FiberDataAnalyzer' etc., to work under different applications together with the various terminal devices. The core image process algorithm for Pass/Fail analysis has been optimized for over ten years, it can quickly have the end face analyzed in 1s and identify the finest scratch. Precision and stability reach 95% depending on versatile scenes. ES(Eternal Science) company holds all the app, and computer software copyright.
Versatile terminals support 8 hours + long time use
No matter whether ES SpeedyTest FVO-730B or SpeedTest2 WIFI fiber inspector, ES fiber optic probes support multiple terminals connect. Especially the branded OTDR for the field test or laptop in the laboratory use, an all-in-one powerful connection is of great help in the complex flexible scenario. Long time 8hr+ use, USB drove charging, power indicator, and darkness illuminator are other alternative advantages.
Regular, 60 angled and long-reach tips selection
Over 50+ regular tips are developed for customers selection. Regular tips can cover 90% of connectors inspection, all are
interchangeable for ES probes and reach 98% consistency and accuracy, including a regular test on SC PC/APC, LC PC/APC, 100G, 400G transceiver, TOSA, ROSA assembly, MT, MPO PC/APC 12, 24, 72 cores all various connectors or bulkhead, in-adaptor endface.
Special 60 angled and long-reach tips are developed purposely for the ADSL Modem, high-density panel check, which makes another competitive edge.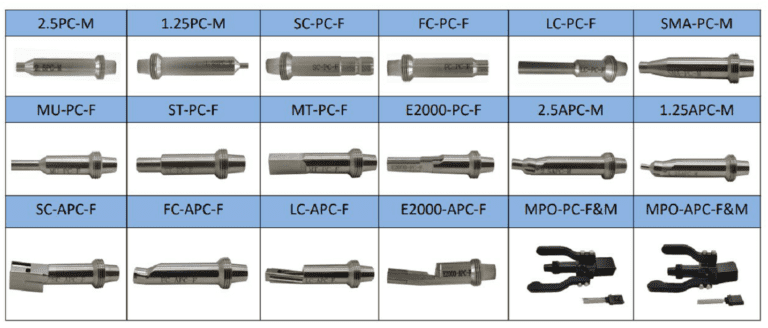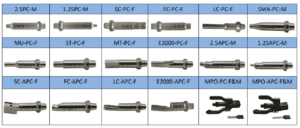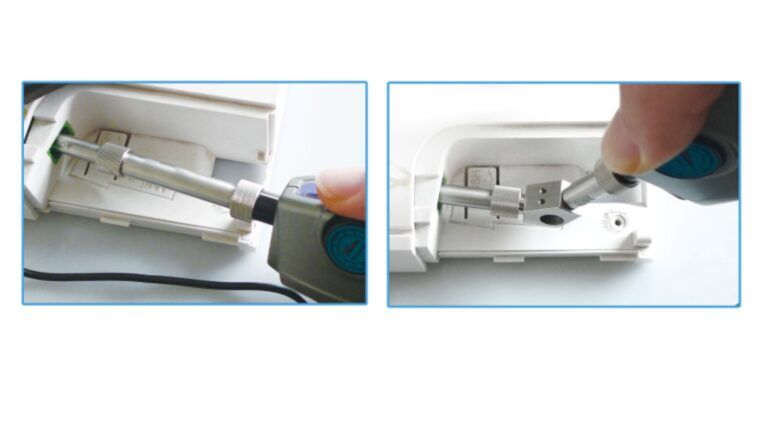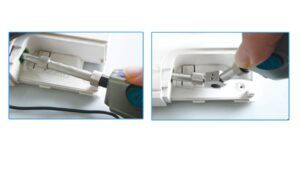 Check out the ADSL Modem inspection
Specifications
SpeedyTest2 Automated EFW–300P Probe
Magnification
400X/200X
Connector
Micro USB
Definition
<1μm
Connectivity
Wi-Fi802.11/USB 2.0
Light source
Blue LED
Frequency band
2.4GHz
View of field
X: 0.3487

Y: 0.2632 mm

OS compatibility
Android 4.0 or above

IOS8.1 or above

Focus wheel
Single-way
Voltage
5V
Focus speed
1-3s
Power support
3400mAh Li-ion
Alignment
>98%
Working time
≥ 8h
Capture button
Available
Recharge time
≤ 5h
Quick switch
Wi-Fi / USB
Weight/Dimension
175g / 19x5x3cm
Configurations
Items
Description
Quantity
EFW-300P
To test the fiber end face on patch cords/connectors in patch panels, etc.
1pcs
Standard Tips

SC-PC-F, LC-PC-F, 2.5PC-M, FC-PC-F
1 pcs/type
USB cable
USB to Micro USB cable(two ends) for charging and data transfer
1pcs
Soft case
carry the probe and accessories
1pcs
Application
FiberEye2 on Android & iOS
USB AC adapter(optional)
5V 1A charger
USB adapter(optional)
USB-C to USB-A adapter, applicable for USB2.0 and USB3.1 OTG smart devices
Arm strap(optional)
Outdoor arm strap to carry Mobile Phone
Software(optional)
EFD5.0

end faces data analysis software on PC, three-year free upgrade.