Description
Eternal Science SpeedyTest updated FVO-750B-H video fiber optic inspection probe consists of the portable fiber end face inspector FVO-750B and the 3.5-inch DM35 video display. It can quickly check various SC/FC/LC/ST etc., PC APC patch cords, connectors, in-adaptors, bulkhead, and transceivers, and display the fiber end face data in the 3.5-inch monitor. The DM 35 display is equipped with a high-capacity lithium battery, which ensures long time durability of 8hrs+ unstop work, and fully meets one-day inspection task. The back magnet of the portable display can be adsorbed into the data center rack to save hands for operation, or hang on by the bracket to save manpower and labor work. The whole monitor jacket is water-proof and shake-proof, it's super handy and durable to take anywhere anytime for field tests and operation inspection.
Product Highlights
Unidirectional one-way focus to get focus in 1-3s

400X/200X magnification, <1µm resolution

Brightness/contrast control on the probe to clearly show the finest scratch under different environment

8hr+ long time work, water-proof, shake-proof

Brightness/Contrast control, battery indicators on monitor

+50 tips support for regular inspection as SC-APC-F, FC-APC-F, 2.5APC-M, 1.25APC-M all connectors and in-adaptors test.

Multiple core tips MT-PC-F/M, MPO-PC-F/M, MPO-APC-F/M 12,24,72 check support.

60 Angled and long reach tips for hard-to-access high-density panel rack etc., places.
Unidirectional one-way focus design
The ES's unique humanized focus way, it's designed as undirectional focusing. Whether left or right hand, forward or backward use, it can quickly get the end face in 1 ~ 3s, especially for the field of the data center,  panel rack inspection.  Brightness and Contrast control on the updated FVO-750 probe can help figure out the finest scratch, and dirt with ease. The front head illuminator also assists the user to check the end face in the darkness.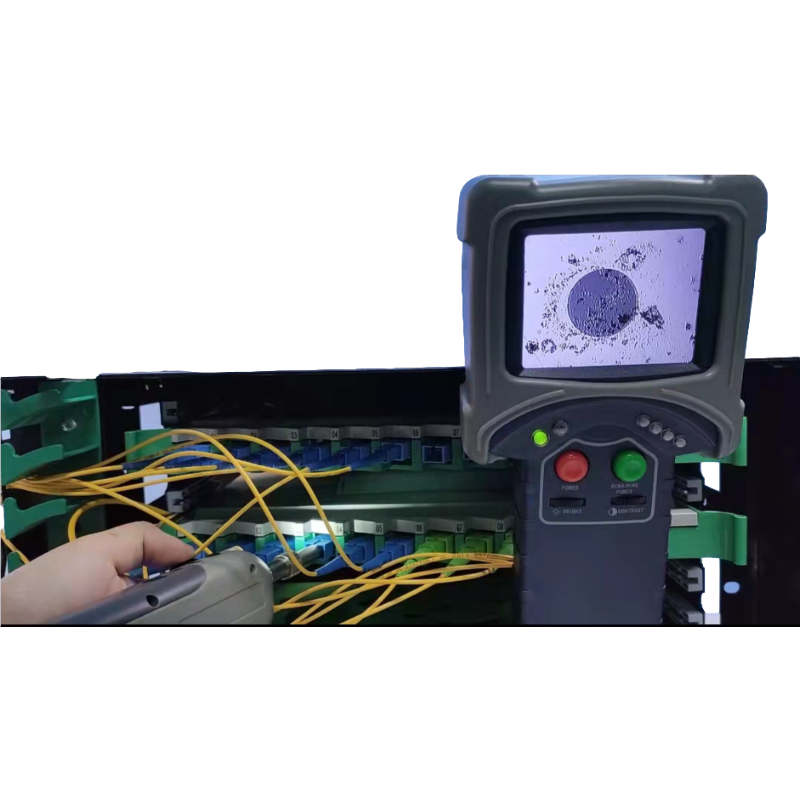 Compact and Durable Monitor
The DM35 Display features a compact and convenient use, which is designed to be supported, suspended on the desktop, and firmly attached to the network cabinet to save hand use. The extended long body is also easy to hold on to for operation. The shockproof protective cover can help to prevent any drop or crash damage,  it's super firm and durable to take in the factory or operation and maintenance center room for any time testing.
Multi connection support
ES SpeedyTest FVO-750B-H video fiber optic inspection probe is connected with a five-core aviation wire cable, which is more stable for signal output and can be optionally selected to connect a larger 8″ display for factory workshop production use or connect to a laptop, tablet, OTDR via a USB switch box. Pass/Fail analysis can be also chosen on the digital device for end face data quality approval.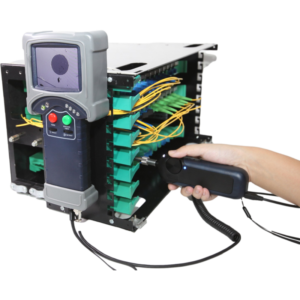 Regular, 60 angled and long-reach tips selection
Over 50+ regular tips are developed for customers selection. Regular tips can cover 90% of connectors inspection, all are
interchangeable for ES probes and reach 98% consistency and accuracy, including regular tests on SC PC/APC, LC PC/APC, 100G, 400G transceiver, TOSA, ROSA assembly, MT, MPO PC/APC 12, 24, 72 cores all various connectors or bulkhead, in-adaptor endface.
Special 60 angled and long-reach tips are developed purposely for the ADSL Modem, high-density panel check, which makes another competitive edge.
FVO-750B Probe

Magnification

400X

Definition

<1μm

View of field
(on V display)

Focus way

One-way

Focus speed

1-3s

Alignment

>98%

Output

5PIN interface

Weight

110g

Dimension

180x22x56mm
| | |
| --- | --- |
| Screen | 3.5 inch IPS |
| Core size | 22~25mm |
| Images | 30w |
| Extended Capacity | 6300mAh Li-ion |
| Battery | 10h |
| Size | 245x110x30mm |
| Weight | 600g |
| Port | 5pin, 3.5mm jack |
Product Configurations
| | | |
| --- | --- | --- |
| Items | Description | Quantity |
| FVO-750B Probe | To test the fiber end face from patch cords /in-adapters etc., connectors. | 1pcs |
| DM35 Display | To display the end-face image | 1pcs |
| Tips | SC-PC-F, FC-PC-F, LC-PC-F ,2.5-M | 1pcs/type |
| Cable | For charging and data translate | 1pcs |
| Charger | 5V 2A charger | 1pcs |
| Soft case | Hold all devices and kits | 1pcs |