A:Application Value for the device
To avoid the missing check of ceramic edge crack or large foreign thing on the ferrule out of sight, the two magnification inspection can prevent the risk of foreign dust things further spread to the middle area during any transportation.

Two screen synchronous observation of large and small fiber images, no need for up and down, left and right adjustment of the x, yaxis, no need for frequency focus, the inspection speed can be increased at least 20 times of original operation. It is the only best way to inspect the full whole end face with the highest efficiency.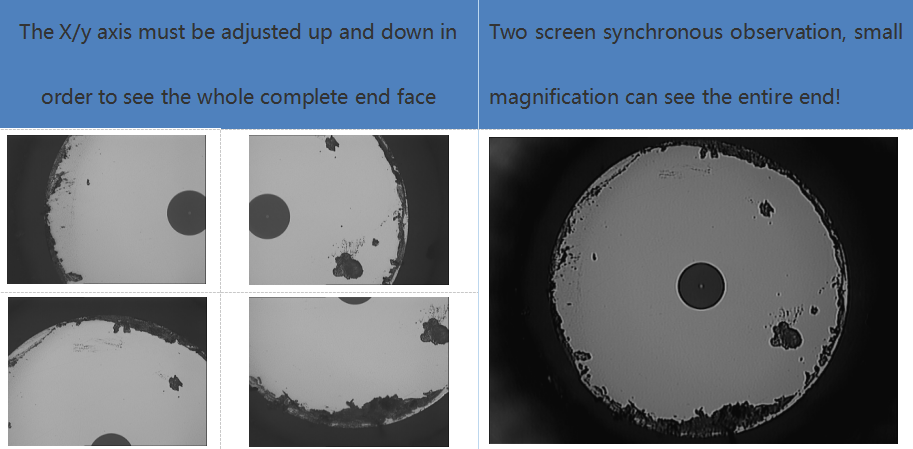 Save the separate cost of 400X, 200X, 80X, 70X purchase for all different regular rates microscopes, and save the workspace and workflow at the same time to improve the overall work performance.
| | | |
| --- | --- | --- |
| Index | Two-in-one rates microscope | Two regular microscope |
| Price Advantages | 1 | 0 |
| Efficiency(Insertion times) | 1 | 0 |
| Efficiency(Field of view) | 1 | 0 |
| Space Save | 1 | 0 |
| Reduction of Process flow | 1 | 0 |
| Overview | 5 | 0 |
High rate checks the core (A, B, C) area, while the small rate looks at the ceramic edge (D, E, F) area. The device can simplify the inspection difficulty, improve the test speed, ensure the quality of end inspection.
For MTP etc., multicore end face, small magnification can see 4 ~ 24 cores obvious defects at a glance. The device can immediately stop inspection processing, saving blind one-by-one adjustment inspection. The time of multi-core end face test can be saved greatly.
The advantages of Eternal Science Two magnification Microscope
400X or 200X for large image, 70X or smaller for large field of view of the fully whole ceramic edge to ensure all the end end face can be checked.
Two paths of high and low luminance light sources. High luminance ensures enough resolution of the large image to observe the fine defects of the fiber core, and low luminance ensures to observe the ceramic end face with high reflective intensity to ensure the observation of the ceramic and the edge area, small cracks or edging that may occur.
Device can be upgraded with the auto focus feature to avoid inaccurate adaptor position by frequent manual focus operation.
Note: all the content is the reprint from the below link where is China Weblink of Shenzhen Eternal Science Development Co., Ltd
https://www.szetn.com/2magnificationIn1microscope.html#_np=115_1118